27 avril 2014
We went to zhaoqing. there was the touring car championship. We arrived quiet early, it was not packed in the beginning. So I thought that it was not going to be very spectacular . But the man of my dreams like movies like ' cars ' and ' turbo ' , so I did an effort to stay. before the actual race there were stunt teams ,doing tricks with cars. They did quiet impressive things. But my children didn't understand why everybody found it amazing. For me I parking my car already a huge stunt. i guess I'm not the reference.
After the warm up, the race actually started. It is not the most prestice race but for my little prince it was perfect. The sound of the cars, the race it self, nice view. Seth loved it. he was so excited about it. He was giggling the whole time.
i didn t expect it, but it really was fun.
if I have the opportunity, we ll go back next year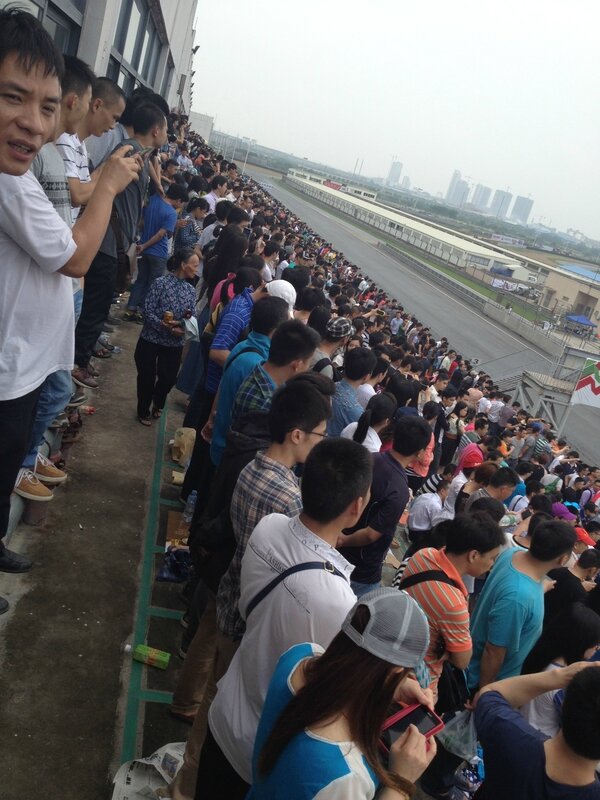 26 avril 2014
Mr p got a car accident. Somebody of the hospital called to inform me that he was in the hospital with a head wound. They couldn't tell me yet if he had brain damage because they first wanted to take some scans. he had difiiculties to remember things. He only could remember my phone number , so they called me. ( filling in all my forms had some use )
so I took a motortaxi to the hospital. the normal taxis only drive to guangzhou , not to xintang where the hospital was. Lucky me, the driver didn't know the hospital ( which was no surprise as it was very small) . When I arrived , mr p didn't recognise me. He reacted slowly and was confused.
I drove him to the parking lot of the police where the car was parked. It was really my lucky day; this taxi driver didn't know where this parking was. We stopped 5 times to ask directions. As mr p was too confused when the accident happened , they drove him directly to the hospital. His money, keys, phone, etc everything was still in the car . I was shocked to see the car. If I would have been in the car, I really would had serious injuries. Seth his car seat was broken down. We already told the company that the car is not safe, but they just replied they didn't know this kind of car. Which is worse : Leasing a cheap unsafe car for your employees when your company claims 'safety first' or signing a leasing car contact without knowing what the content of your contract is.
It even gets better. As the car is rented, they need to give a replacement when problems occur. on a Saturday the company claims nobody is working. . So mr p had to go to Guangzhou downtown to pick up the car. He was not feeling well, still shocked, his t shirt still full of splinters of glass, and his head wound still bleeding, but he had to arrange the replacement himself. Can you imagine ? This is so typical. and it makes me so angry. The poor guy should got some rest. But he went to pick up the car because he was afraid to loose his job ( because of the accident )
root of the accident : mr p was turning to left, crossing a street. he says a bus was approaching , but as the bus was still far away and in this street the speedlimit is 40km/h, he had time enough to cross the street. But the bus drove much faster , and .... BOEM
now experts need to determine how fast the bus drove. but that is not the only thing that determines who is wrong and right. mr p is afraid he ll be proven wrong as he doesn't know anybody at the police. He s afraid the bus company has better relations with the police. the only hope he has, is that the insurance company can have some good relations.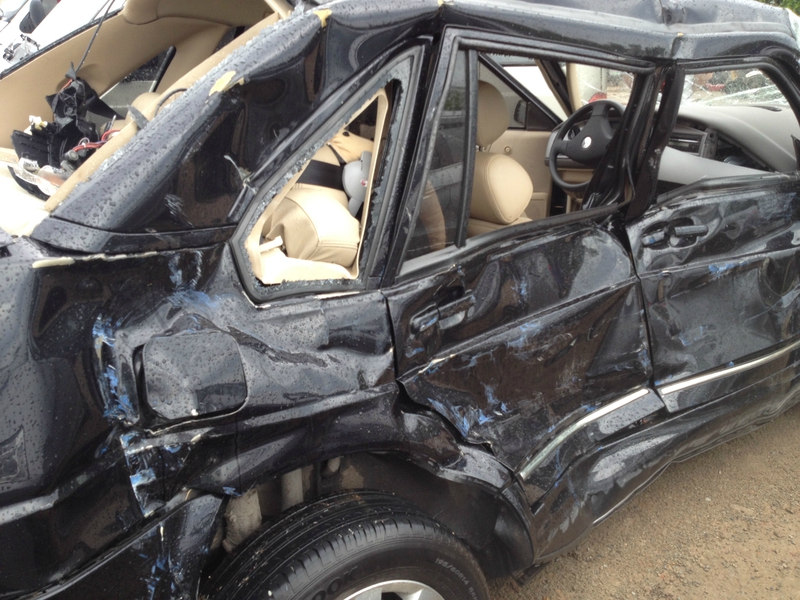 24 avril 2014
Guangzhou has some nice old tea houses. you can go for the popular morning tea or dimsums during the day.
i tested some for you :
taotao ju - 20 dishifu lu , lu wan district
built in the reign of emperor Guangxu, taotao ju is a time honored brand in Guangzhou. In 2005 it was declared a muni pal cultural heritage spot. The place is packed with old people for the morning tea.( 4 floors ) . The food is so so. The choose is limited , the quality is average. I had the feeling that the old people are not so demanding as they were used to a simple type of luxury. So nor the staff nor the presentation of the food is excellent. but the environment is nice
Panxi restaurant - 151 longjin Xi Lu, liwan
this restaurant I situated inside the liwanhu park. most people are put in a big restaurant, but for 10 rmb s extra, you can have a table in a smaller house with lake sight. The menu is more elaborated. the food is ok . The waitresses better clothed then the restaurant mentioned above.
23 avril 2014
I was shopping with my chinese friend. She wanted to buy some herbes / medicins to make a soup. She takes a hand of the herbes and the sales lady starts to cut them ( In a machine under her table ) . she gives my friend her bag cuted herbs. The handful of herbed , cuttered seems to be a very big bag. this looked already strange. the bag is still quiet light, but it is weighted almost one kilo. ( I think there was some wrong with her balance ) . The hand full of herbs , cost in the end 800 rmb. my friend refuses to pay . And leaves without buying. It is quiet typical. If they would have cheated a little bit, perhaps my friend would have bought it . Now she cheated too much, wanted to gain to much, and as a result, she didn't sell anything .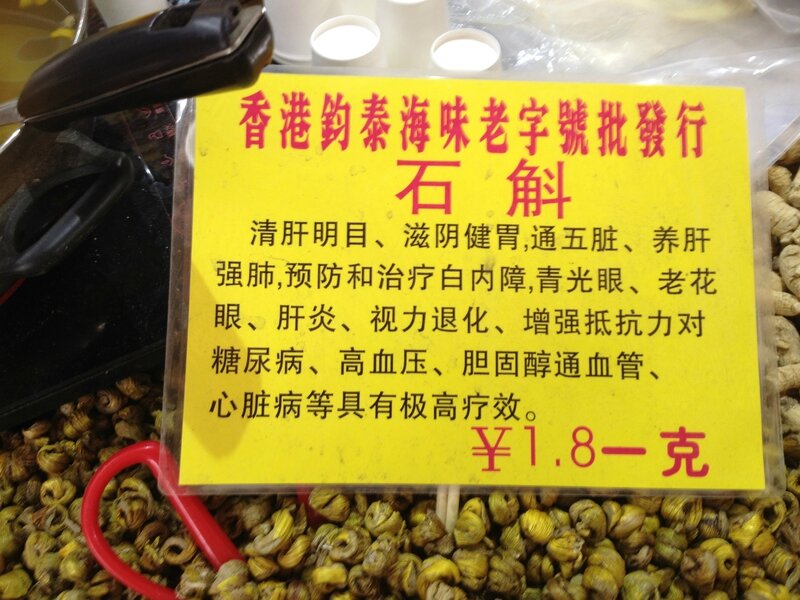 15 avril 2014
you might think I m very busy now, but I'm ok. Ayi is still here ;-) . She went to the hospital but the hospital is completly full. So she had to go back home. This week she went back to the hospital, but still no beds free. She is on Waiting list. She said that they only accept emergencies. but as no rooms are available, the emergency cases have to lay at the corridor. so for the moment we don t kno when Ayi goes to the hospital. they estimated she needs to wait one to two months.
Also my chinese teacher is on the waiting list. her daughter is turning 1 year , so she is obliged to go to the hospital for birth control. She can have a second child ( as she and her husband are only child) , but she is still needs to go to the hospital. If she doesn't go, she needs to pay a 100000rmb fee. they are not joking with birth control In china. When her daughter is turning 3 , she can let it remove. Then again she is put on a waiting list, to remove it. She doesn't know when she ll be able to have a second child. It depends on the list and the willingness of othere. After the second child she needs a sterilisation. Only if you are rich enough, you can pay the fee and have more children.
my Ayi says she is too old to have children but still is obliged to keep the birth control.
mr p said that when he was young, they also needed to wait 3 years before having another baby, but the help of the doctor was not obliged. His wife gave birth to a little girl 2 years later, so........ He needed to pay a big fee.
04 avril 2014
Ayi told me she is leaving. She said that I should slowly start looking for another Ayi. I was surprised ( especially because I only recently gave a salary raise). But apperently she has a swelling that needs to be removed. As she won t be able to work the next month , she assumes she lost her job. I told her that she can back after the surgery. She didn't really understand. So I explained that I too can do some ironing, cleaning and if I really really have too , do the dishes. ( but I have to admit , I hate doing the dishes) . I told her in Europe I had to do everything myself. She was wondering how people have time for their children if they are working and cleaning the house on their own. I told her in europe we are all superwomen Or if you have a real ambitious husband who doesn't do anything I the house and doesn't help with the kids, you have to stop working. ( and hoping your husband doesn't start an affaire with his 20 years younger secretary) .
she was very happy to know that she can keep her job. The surgery will only be after tomb sweeping day. It brings bad luck to be in the hospital during the tomb sweeping day. The doctor proposed her to come to the hospital on Monday but because after the weekend the house is always very dirty, she asked to start the procedure on Tuesday. Monday she s still coming to help me clean The house.
Perhaps she doesn't come back after the surgery, I don t know. but she is a good Ayi so I m willing to take the risk and waiting for her.
21 mars 2014
i found back the name of palace ???
it is called yuhua palace. Once a summer palace of three emperors in the early Tang Dynasty. Afterwards a place where xuanzang , a famous monk, had translated Buddhist scriptures, developed Buddhism, founded a religious sect and passed away , it is now a national level 4 A scenic spot.
What about that.
But reality wasn't so spectacular as what was described in the book.
20 mars 2014
driving back direction Xian to the Tomb of Emperor Jingdi Emperor Jingdi was the fifth Han emperor, who ruled China from 157-141 BC. The impressive tomb, which covers 20 square kilometers, is still being excavated
The tomb was discovered by a construction crew building a highway in 1990.
I really liked how the musem is set up. the pottery figurines at close range with only a glass wall in between. Strolling on the glass walkways above the pits, you can have a clear look at the buried treasures in the shallow pits of the museum which are all well lit and dazzling.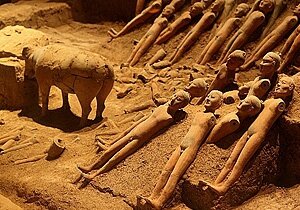 19 mars 2014
We drive to yan'an to visit the Huangdi Mausoleum. The memorial mausoleum of legendar huangdi is the most important ancient grave site in China. Huangdi, the initiator of Chinese civilization, was a great tribal leader in the final primitive society of ancient times.
in front you have Xuanyuan Temple. It looks like a new building and has no charm at all.
.
we drive furthur to hukou.this should be a very spectacular waterfall. but today there is no water. come on. apperantly three days later, the water started floating again.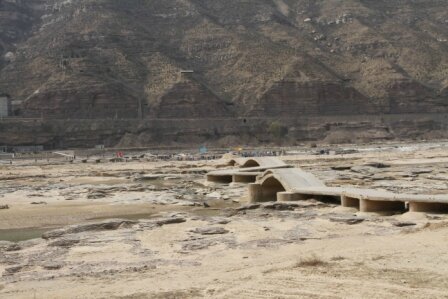 this is how it should look like :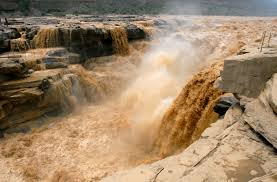 we want to eat some food in a small restaurant. before we order, they already start to preparing a fish for tus ( that we didn t order).
the prices are way too high, so I want to leave. but the waiter runs behind us claiming that we ordered the fish. yeah, nice try.
we go to another small restaurant furhur down the road, but the prices are the same. ( very expensive for china) and on top, this is the place they served me. Really ? the food was soo bad that even Mr P who eats everything, let his plate untouched.
18 mars 2014
first we drive to ??? palace .our next stop is too far away to drive in one time.
at the road we saw a brown sign indicated a tourist highlight of the region. so we went to give it a try
o we didn t really find the palace. The big complex had ice castle but half of it was melted down. The waterfall was still ice, the houses we're in the rocks but because of security reasons not able to visit anymore....
what a day !